Why

Sell With Us

We are building a vibrant community of vendors offering a huge selection of Sustainable, Healthy and Ethical products for all aspects of your life. From Home & Garden to Pets and everything in between.
Read more to discover why you should be part of what will become the 'Go to' destination for kiwis wanting Sustainable, Healthy and Ethical products.

HOW

GREEN ELEPHANT WORKS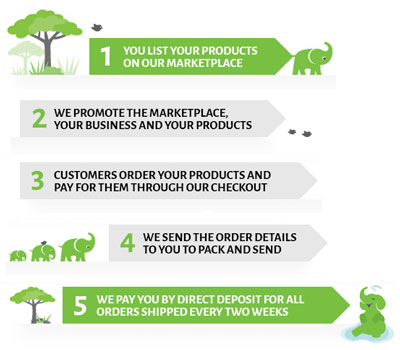 MORE

ABOUT GREEN ELEPHANT
YOUR TOOLS
Professional website with ongoing maintenance and enhancements by Green Elephant
Your own storefront and profile page
Unlimited product listings that are quick to create and simple to manage
Our custom built easy to use content management system available 24 hours a day
Support and advice to help you maximise sales
Opportunities to feature on our homepage and in product collections
HOW YOU BENEFIT
Our marketing spend works hard for you and your brand
Our Marketplace focuses on Sustainable, Healthy and Ethical so we find buyers who already have an interest in products just like yours
Optimised SEO and digital marketing drives more traffic to your pages
We take care of payments and refunds
Leverage your business profile by being part of something bigger

WHAT WE ARE LOOKING FOR
A wide range of quality products with genuine Sustainable, Healthy and Ethical credentials
New Zealand based Vendors committed to providing great customer service
Well presented products including images that show your products at their best
Businesses that are looking to grow
HOW MUCH DOES IT COST?
There are no joining fees or subscription fees to be part of our Marketplace
There are no product listing fees
You simply pay a flat rate commission of 20% on all completed sales
We pay merchant fees and transaction costs for you

GET

STARTED WITH GREEN ELEPHANT
If you are interested in becoming part of our Marketplace all your need to do is click on the button below and fill out the simple application form. It only takes a minute and doesn't commit you to anything.

If you need to know more – get in touch with us we're here to help.