About

EKOH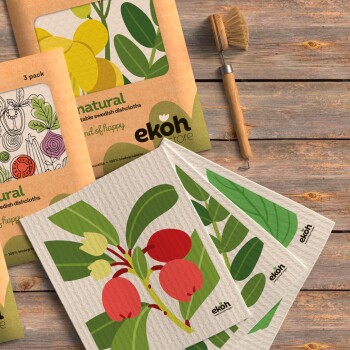 EKOH is an acronym for Every Kind Of Happy - Say it echo
Hey, we thought you might like to know a little about who you buy from.
Our names are Dawn and Richard, and we started EKOH with the dream of making products that we use every day in our homes more sustainable, chemical and waste-free and better for us and the earth. A one-stop solution for household essentials, but with style and a happy twist.
We live on beautiful  Waiheke Island  ( so do some of our team), and our warehouse warriors are in Christchurch.
We believe in a fair wage, supporting small manufacturing and ethical certification and ensuring all our EKOH products have no plastics so they can return to the earth at the end of their use.
We have created bundles of our best sellers and essential everyday products, savings for you and the earth. Our mission is to offer alternatives and help anyone wanting to make better choices.
We want the world to be a happier, kinder, healthier place for all living things.
😊 What do our Customers have to say : 
Swedish Dish Cloths: Thank you! I am happy with my purchase and have put all my plastic sponges and old microfibre cloths to rest. Until I read what you said about these products shedding small microplastic in one of your Instagram posts, I was unaware of this. I did some more googling, and articles backed up what you say – so "thank you" for helping me along my journey to try and be more conscious. Mellisa T NZ


HealthyClean: This product is a winner! I will be back to restock. We have tried so many other "green" cleaning products that have not lived up to our needs, but HealthyClean is great; it really works – I must admit to checking out the brand in Australia, SimplyClean, and it gets a great big 5 stars from us- thanks for bringing the product to  New Zealand. Dan Christchurch

Refill Glass Bottles: Just what I was looking for! Absolutely love this set of bottles and can see myself buying more. The silicone base is genius, and the pump bottle option is super smooth; the labels are just what I like – thanks for sending so many! Super fast and well-packaged delivery. Charlotte NZ 

Bamboo Brushes: Good value for so many products. When I bought this, I wanted the scrubbing brush for my feet and nails and the loofah for the shower. The value per brush is excellent when compared to purchasing individually elsewhere. I have used the kitchen dish brush and bottle brush daily, so I am happy.JD Auckland

Reusable Produce Bags: A must-have for any supermarket or farmers market shopping. Happy days, no more soft plastic fruit and veg bags. Excellent quality. I love them. I've just purchased another set for my husband to keep in his car, too – must share that the box is useful to keep them rolled up and stored in the car, so they are always available. Nadia Christchurch