About

Goodsport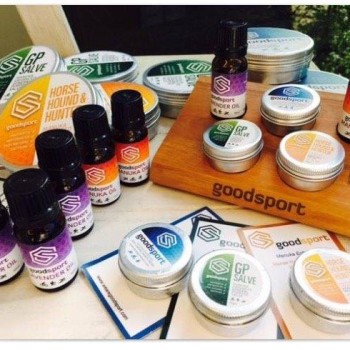 Goodsport - Manuka plantation, Katikati, New Zealand
Goodsport is located at the base of the beautiful Kaimai Ranges in Katikati, New Zealand.  Our farmland has been transformed into a thriving Manuka plantation.  By growing in a plantation style we are helping preserve the wild habitat of birds, geckos and insects.  We avoid harvesting while the Manuka is in flower, which means plenty of food for Bees and other nectar seeking insects.  We have thousands of plants which are storing carbon and producing oxygen.
New Zealand is beautiful and we want to keep it that way!
We produce a small range of balms, creams and salves, all enhanced with fabulous Manuka essential oil that we distill directly from the plants grown in our plantation.
We are a family owned and operated  business  and our story starts with Granddad.
Farming in the 50's
Having served in the Pacific in World War II, Bill Holmes (Granddad) returned to New Zealand to continue his farming career, and in 1950 purchased a property near Katikati – the land we still operate from today.
The land was largely undeveloped and Bill spent many years battling weeds and turning the land into a successful dairy farm.
Ironically, one of the "weeds" that was eliminated to create pasture was Manuka!
From Dairy to Daisy's
In 1970, my parents purchased the farm from my grandparents, and they farmed the land for many more years, before eventually developing a flower and foliage growing enterprise part-time.
The flower business grew to an extent that my wife and I, as well as my siblings and families were able to join and help grow the enterprise further. 
Bring back Manuka
As time has gone by, we've developed an interest in natural products and New Zealand plants, and we started looking into something which we knew had fantastic natural attributes.  A plant that would grow really well for us and would allow us to best use the skills and knowledge gained over the last forty years as growers.
It turned out to be a plant that Granddad had spent a lot of time trying to eliminate…. Manuka
Despite it's eradication in the 50's, the Manuka plant still flourished along the river boundaries and within the bush reserves of our farm, so we knew that a full-scale come back was possible.
A natural future
Fast forward a few years, and we've now planted 25000 Manuka plants (all in nice straight rows!) and we're proud to be the first in the world to plantation grow Manuka for oil production – one of the key ingredients in all GoodSport products. We also have a few bee hives, with the aim of producing a small amount of Manuka honey and bees wax.
We hope you enjoy GoodSport, and appreciate the history that's gone into making our products happen.