About

Kai Carrier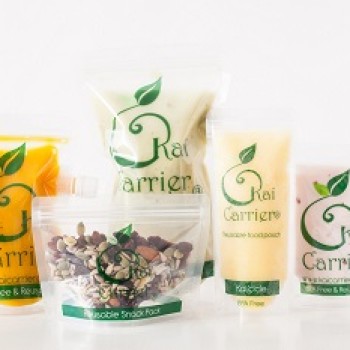 Preparing for motherhood I knew that I wanted to feed my children homemade food free from any additives or preservatives, and I succeeded until my daughter was about 8 months old! Always being on the go I discovered the convenience of the pouch format and found this an easy no mess way of feeding her. I tried to find a reusable pouch I could fill with my own homemade food but was unsuccessful, so after much deliberation decided that I would fill the gap in the market!
I feel very proud that I have taken an idea and made it a reality and Kai Carriers are providing families with a convenient cost effective solution to feeding their kids the foods they want to, and at the same time reducing their carbon footprint.
Kai Carrier are reusable food pouches that can be filled with homemade food so you know exactly what you and  your children are eating whilst minimising the mess. They allow you to make nutritious food free of additives, preservatives and excess sugar and serve it in a convenient way, anywhere, anytime.
They provide busy 21st century families with an eco-friendly product that can be used over and over – and the kids love them! Babies love the freedom of feeding themselves and develop gross and fine motor skills along the way. The older children can learn about healthy eating and assist in the preparation and filling of the Kai Carrier.
Kai Carrier are not only convenient but they help save your family money. Make bulk food, fill your pouches and store in the freezer for a later date. No more worrying about what to feed the kids on a whim!
The sturdy waterproof ziplock on the top helps prevent leaks and provides a wide opening making filling easy, and the side spout is perfectly positioned for little mouths.
Fill your Kai Carrier with any combination of vegetables, fruit, poultry, meat, legumes, grain, dairy, smoothies, custard or yoghurt. Us adults can use them too! Store anything from homemade soup, smoothies, sauces, pesto, mayonnaise, guacamole, breast milk, dips or liquids (including cocktails or mocktails!) (ensure you store upright when filling with liquids to prevent seepage)
Kai Carrier are BPA, Phthalate and PVC free making them safe for your little ones. They are dishwasher safe making cleaning easy and can be stored in the freezer.
Kai Carrier are now available in a range of shapes and sizes, including 140ml, 300ml, 600ml, snack packs, Kai'cicles (Ice block pouches) and Sandwich Bags
Help reduce your carbon footprint by sending less waste to landfill by using a product that is reusable and recyclable
Kai Carrier are the convenient no mess solution to feeding fresh homemade food on the go and I know your family will love them!