About

PURELYESSENTIAL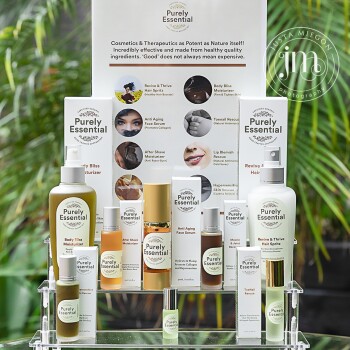 PURE | POTENT | SIMPLE | EFFECTIVE
Purely Essential was founded to provide a more healthy, highly efficient rejuvenating, and restorative solution to individuals, unwilling to daily 'feeding' their body with products full of damaging chemicals any longer! We are creating high-quality, New Zealand hand-made, organic products, using active compounds of medicinal plants (therapeutic-grade) that help to slow the natural aging process as well as alleviate and manage people's everyday discomforts! Our products are pure, potent, simple, and incredibly effective. Our quality promise guarantees the consistent purity of all our products. No compromises ever!
At Purely Essential we are only using the highest quality NZ certified organic ingredients, sourced from local suppliers with the vision for the Sustainability of Healthy Living in every individual.
Our  Products are simple and easy to use and are incredibly effective. We are operating across the five product segmentation of Hair Strengthening & Restoration, Anti-Aging, Allergies/Eczema, Sexual Health, and Anti-Fungal. Purely Essential products are changing the perception that natural, high-grade products must be expensive and customer responses confirm that the products really work!! Most people can see and feel a difference after as little as 10 days. We are confident that you will be very happy with your purchase.