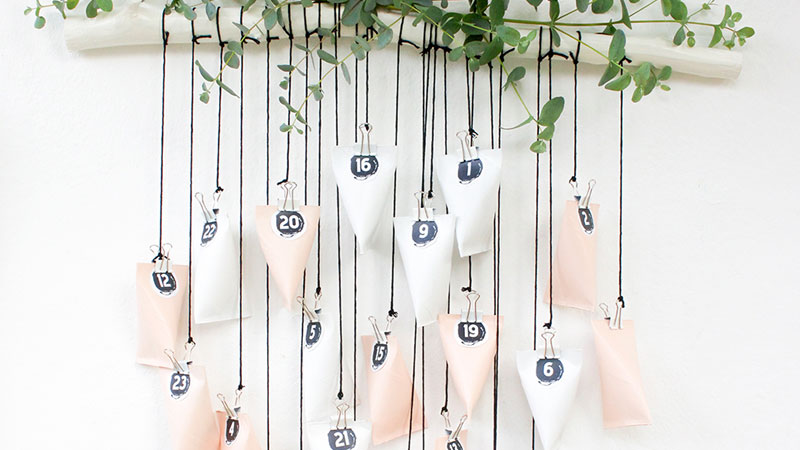 Advent is fast approaching (I'm not going to say how many sleeps….!!) and I'm betting many of you haven't thought about an advent calendar yet…!! Back in 2015, I scrabbled around on the 1st December while the kids were at school putting together this envelope advent calendar. Don't get me wrong….this is AWESOME when you're short of time and materials but want to make something non-naff. It's also great from a storage point of view – pretty much a flat pack DIY advent calendar!!
The children LOVED it and it has been requested pretty much every year since, so yeah…. a WIN!!
But, it's always fun to change things up a bit so I thought I'd share these ideas for upcycling toilet rolls. Who knew such cool DIY advent calendar ideas could be put together using the humble old bog roll….???
1. Christmas Tree on the Wall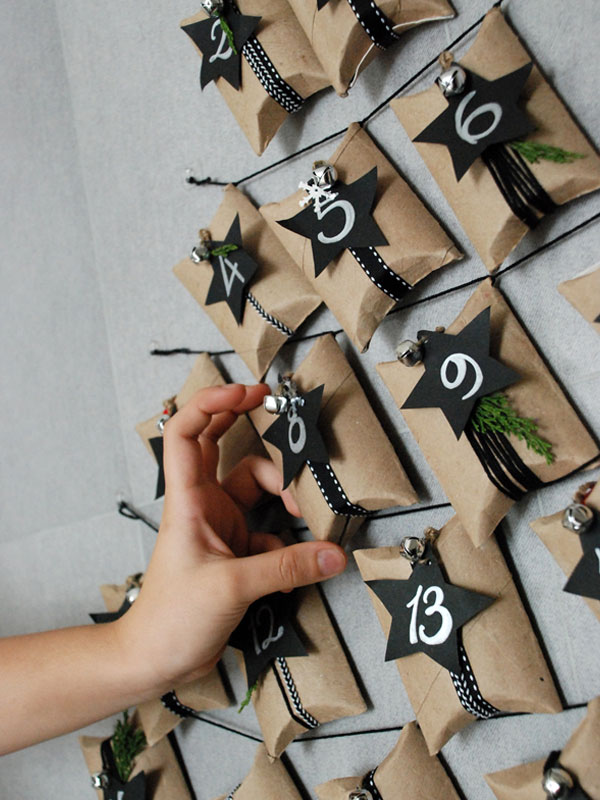 This super simple Christmas 'tree' made of loo roll parcels was designed by Rocio and featured on her blog, Casa Haus. Pop in your treat and fold the loo rolls at each end before securing with a ribbon. Add numbers, bells even and maybe some foliage and hang on the wall in a Christmas tree shape. If you're short of wall space these little parcels can be displayed in all sorts of ways.
Carry on reading to see what I came up with!!!
2. Toilet Roll DIY Advent Calendar House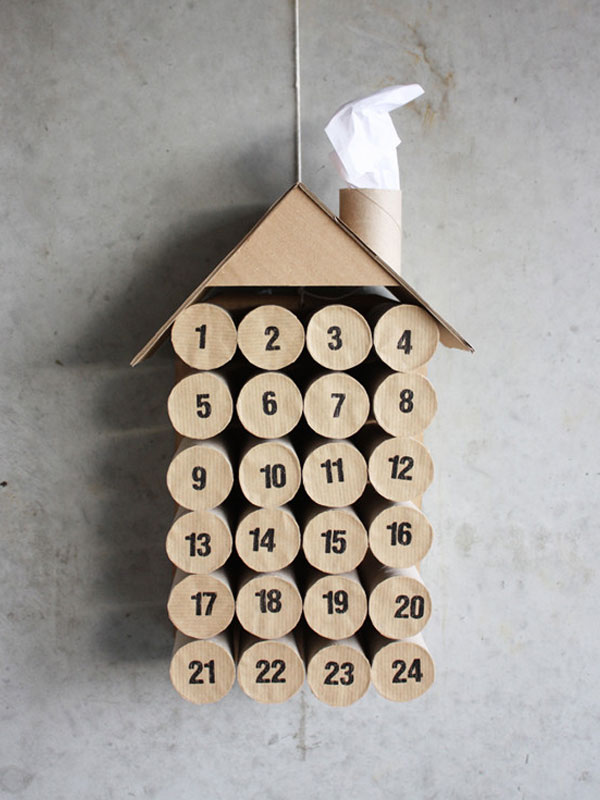 Kids will love this little advent house which was originally from a blog called Morning Creativity. They thought of everything – even the smoking chimney. Just pop the ends each day to find the gift within!!
3. Stylish Painted Hanging Christmas Calendar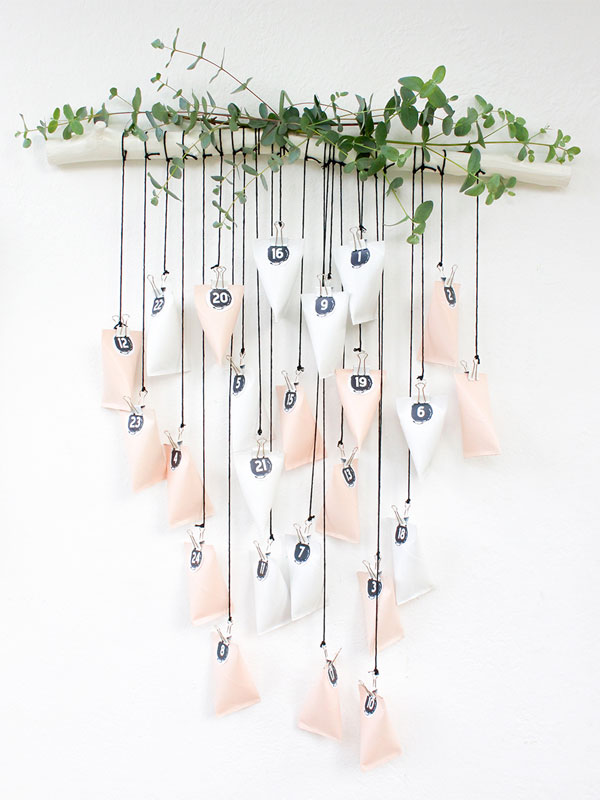 This is a gorgeous painted hanging calendar from Patrizia's blog LilaLiv. The inspiration for the parcel shapes came from her daughter, Liv, who made a rattle at school!! Choose whatever colours you like to match your theme and hang the pouches on a branch which could be painted (as shown) or left natural for a more rustic look. There is also a printable provided for the numbers.
4. Christmas Advent Parcels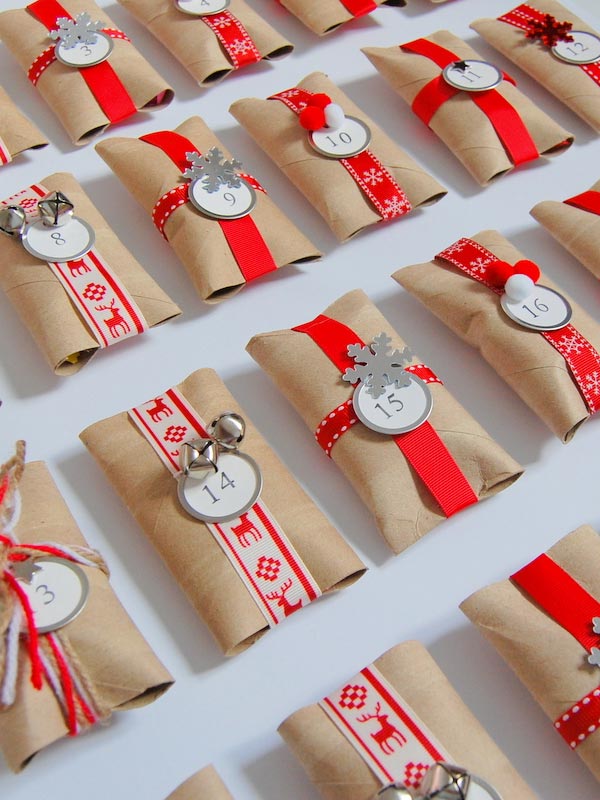 Similar to the Christmas Tree on the Wall above, this advent idea was from Alex over on her North Story blog. She used a stapling technique instead of folding to make the toilet roll parcels look more like kraft envelopes. The envelopes could be arranged however you like but these ones weres stuck on a board which makes a nice display. Cute eh…???
5. Cute Toilet Roll Santas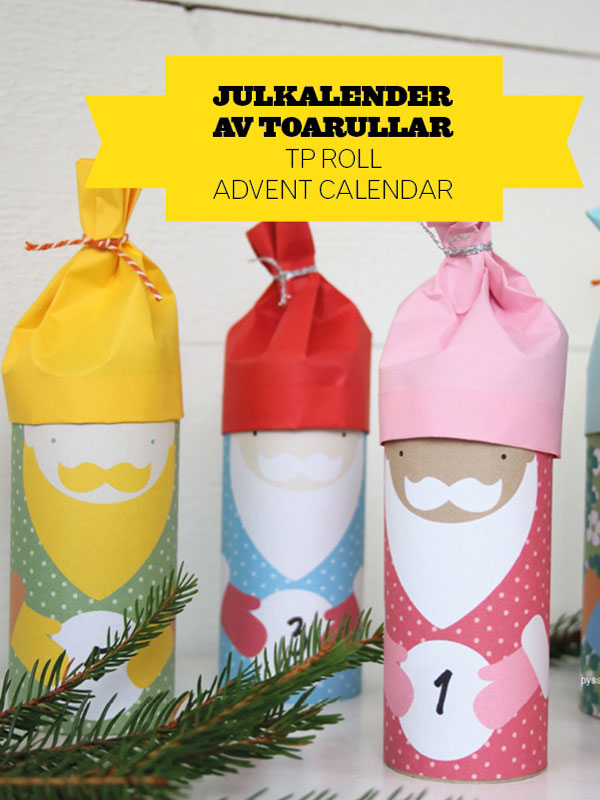 You could get the kids to help make this bright and fun calendar which is from The Crafty Swedes at Pysselbolaget. The hats make little lids which can be lifted off each day to reveal the treats inside. The instructions come complete with printable Santa Clauses too!!
5. Stylish Mantelpiece Calendar
OK… so this was my adaption of the toilet roll theme!! I LOVE the idea of making these little parcels from humble loo rolls and the result is really effective. Each of my parcels was filled with either a clue (see the Treasure Hunt Envelope Calendar for the origin of the clue thing….) or a treat. How cute do they look…???!!
We are short of wall space in our house so hanging the parcels in the Christmas Tree formation wasn't really an option. So, to display the parcels, I used a row of jars on the mantelpiece which I decorated with yet more ribbon and numbers made from brown paper. It was quite a mission to collect all the jars and loo rolls and there was A LOT of ribbon involved but it was all from my existing stash, and it all went back into the stash afterwards. Reuse at it's finest!!!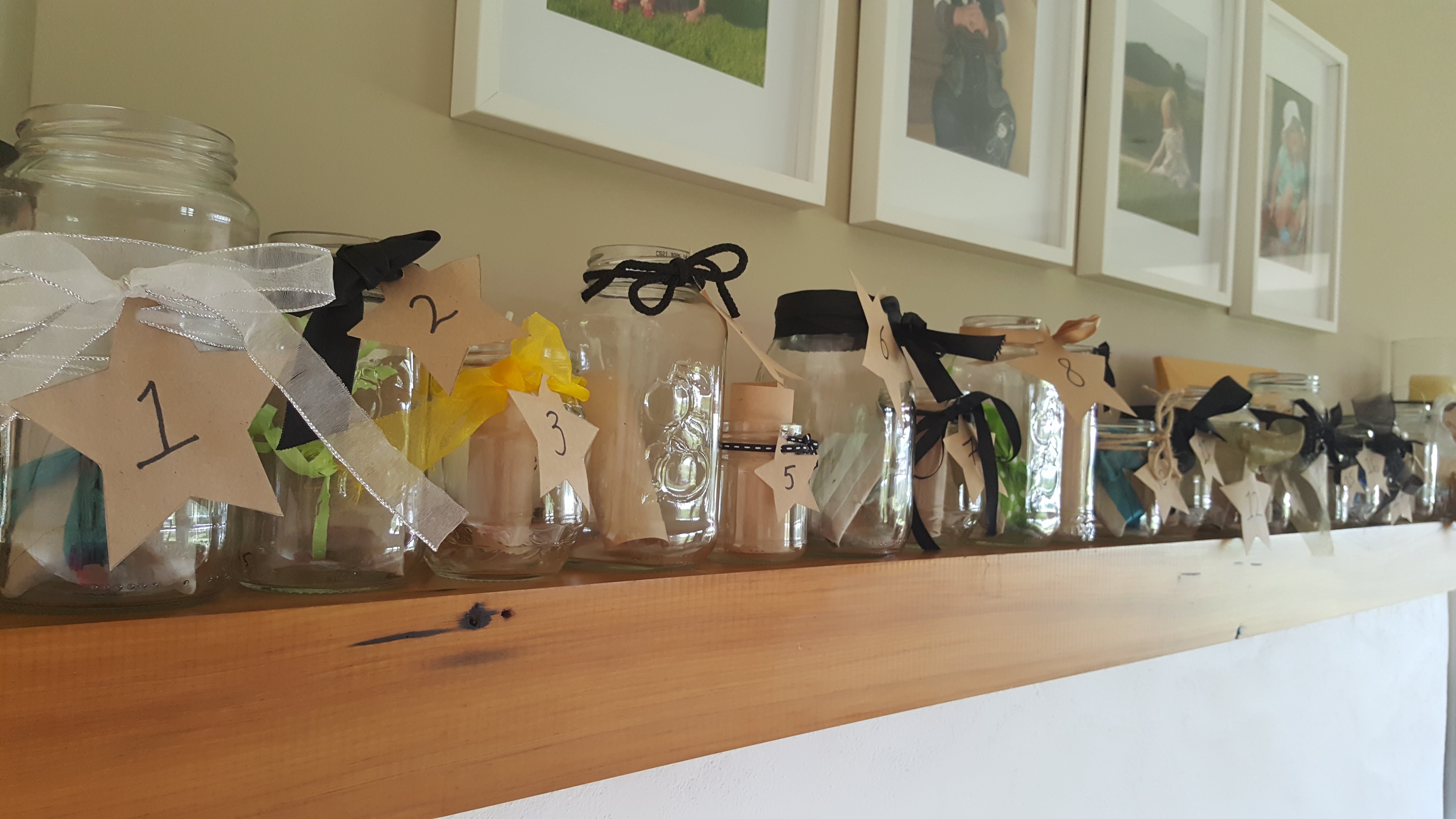 So…which one is your favourite…?? There's plenty of inspiration here for a simple yet stylish toilet roll DIY advent calendar. But Ssshhh…nobody needs to know that your beautiful creation has been made from toilet rolls do they…??!!