So, you've made the switch.
Out with bottles and pumps, IN with solid shampoo and soap bars. Go YOU!!!
To keep your amazing soap and shampoo bars amazing, you're going to have to store them properly. And we're here to help with that. Read on for all the info you'll need on how to store solid shampoo bars.
There is really just one thing you need to do for your bar…. LET IT DRY. We can't stress this enough. If bars aren't allowed to dry out completely in between uses, they become a mushy, slimey mess and will soon be unusable. And nobody wants that!!
Letting your bars dry out properly will make sure they stay in tip-top condition, are easy to use and last as long as possible.
To get your bar drying out, a good storage solution is key. Leaving your poor bar languishing on the floor of the shower is not going to cut it. A good flow of air around the bar is critical and there needs to be somewhere for the excess water to drain off. Here are our top picks for effective bar storage.
1. A Good Soap Dish
Not all soap dishes are made equal. A good soap dish will have ridges and grooves or holes in it to allow air to circulate and the water to run off your bar.
If your dish is going to be in the shower, make sure it is not in the direct spray zone of the showerhead and extra points for removing the dish every week or so to allow it to dry out thoroughly on the windowsill or vanity!!
For in-shower storage, choose a dish that won't break if it falls. Wood is a great choice, but make sure the wood is resistant to mould and rotting. Shop some of our most popular soap dishes below or head to the marketplace for more.
| | | |
| --- | --- | --- |
| | | |
| Super stylish, locally crafted macrocarpa double soap stand. These trays are left 'natural' so have a wonderful spicy scent of wood. | Unique, hand crafted dishes made from recycled plastic. Lightweight and unbreakable – perfect for in shower use! | Handthrown circular ceramic soap dish with a natural glaze. A rustic and beautiful finish, a wonderful addition to a guest powder room. |
| | | |
2. A Soap Saver Bag
Look for soap saver bags made from natural fibres. Hemp is popular as it is soft but offers some exfoliation too. A good bag should have a loose weave (for the air remember….!!) and fit a single bar of shampoo or soap snugly.
These bags are GREAT for hanging in the shower and for travel. Either use it just for storage or leave the soap in there letting the bag act as a gentle exfoliator. They also take care of those pesky little bits of a bar you end up with. Just pop them in a soap saver bag with your new bar and use as normal!!
3. DIY Options
You don't have to invest in a new soap dish. I promise you, there will be something around the house you can use!! Check out our video to see how we improved an existing soap dish which didn't have very good airflow (see below for the end result), and how we converted a jar lid into a makeshift soap dish. Not glamorous in any way but very functional!!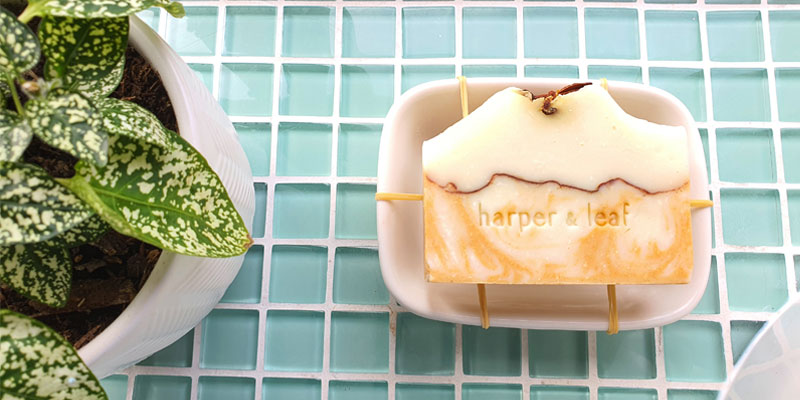 So, there it is. All you need to know about how to store your solid shampoo bars and soap bars. Not got a clue what a solid shampoo looks like or why they are a good idea…?? Check out our blog on solid shampoos and be convinced!!!