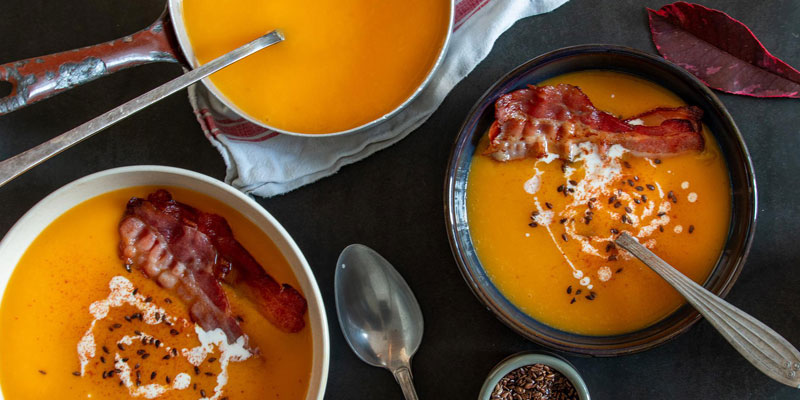 It's winter already and grocery prices are through the roof. So, we have two great reasons to make soup right there!! This pumpkin soup recipe is family-friendly, easy to make and SO CHEAP. Pumpkin has a naturally sweet flavour so most kids like it and when in season, you can score a huge pumpkin for very little $$.
If you're interested in the maths, here it is:
I bought a whole crown pumpkin recently for $4. It weighed in at 5kg. I used half of it to make soup and that amount of soup provided our family of 5 with 2 good portions each. Let's say the onion and other ingredients I added cost around $3 (that is being generous), making a total cost of $5 for 10 portions of soup. That's just 50c per portion!!!
If you haven't got a big, hungry household to feed, this soup freezes perfectly for another day. These large size pouches from Kai Carrier are great for this!!
Before we get into the classic pumpkin soup recipe, I'd just like to mention a few other vegetables that are great for making economical soups. Don't be scared to pick up a large quantity of something that's cheap even if it isn't on your list – because you can make soup with it!! Things like potato, onions, carrots, parsnips, swede, cauliflower and even celery are all great ingredients for soup, either on their own or combined.
Whatever vegetables you are using, the same basic method of soup-making applies. Simply simmer the vegetables in stock until they are tender then puree or process the mixture to a soup consistency. See….?? So easy.
When serving, you can keep it simple or jazz up your soups with some extras. Here are some ideas:
a small crumble of strong cheese
a dollop of plain yoghurt (great if your soup has spicy elements)
chopped fresh herbs
toasted seeds
crispy bacon bits
But for now, here's the classic pumpkin soup recipe!!
Classic Pumpkin Soup Recipe
Ingredients
2 Brown Onions chopped
2 tbsp Olive Oil
2.5kg Pumpkin
2L Stock
Salt and Pepper
1. Heat the olive oil in a large pot before adding the chopped onion and a pinch of salt.
2. Saute the onion on a low heat until soft and translucent without browning it.
3. Peel and deseed your pumpkin and chop into 2cm chunks.
4. Add your pumpkin to the onion and stir well.
5. Add your stock to the pan. It should just cover the pumpkin.
6. Bring to the boil and lower the heat to a very gentle simmer. Cover and continue to cook until the pumpkin is soft. This can take 30-40 minutes depending on the size of your pumpkin pieces.
7. Now puree your soup. I find a stick blender perfect for this, but you can use a stand-alone blender or processor too. Your soup should be silky smooth.
8. Check the consistency of the soup. If it's too thick, add a small amount of water and if it's too thin, boil for 10 minutes. Make sure you keep a lid ajar on the pot or you'll end up with pumpkin soup all over your kitchen!!!
9. Season your soup generously with salt and pepper before serving.
This soup is fabulous on its own, but we love it served with some homemade bread. Check out this easy peasy overnight loaf which is the perfect companion for soup.