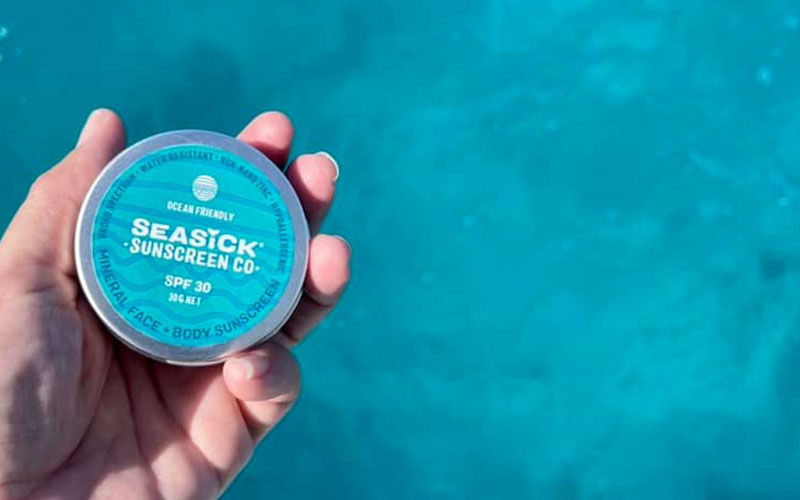 Seasick Sunscreen. A unique mineral sunscreen born out of the desire to protect our oceans and the diverse range of creatures that call it home.
Natalie Jones grew up in New Zealand and spent her summers by (and in) the sea. She is a complete water baby and loves nothing more than to be in the ocean snorkeling or diving, wholly submerged and surrounded by fish in their natural habitat.

Her love of travel has taken her around the globe; exploring, hiking and of course… snorkeling!! One of her most memorable trips was to the Poor Knight Islands in Northland. Natalie rates this as one of her best diving experiences EVER and she thinks this is one of the top diving destinations in the world.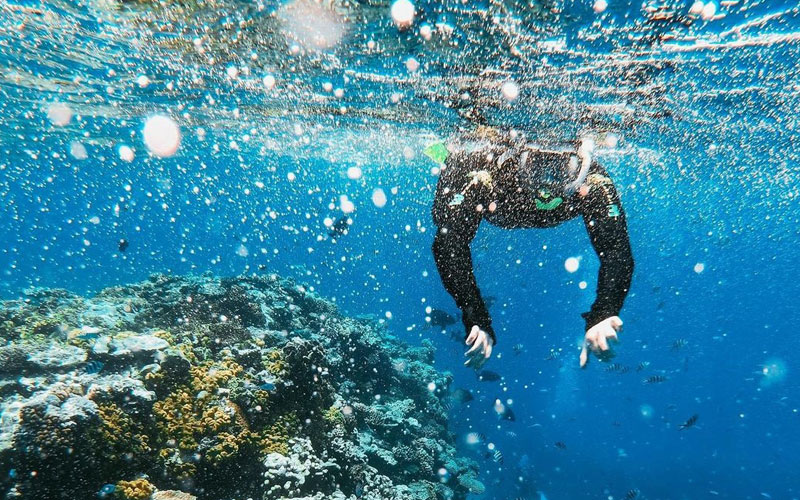 Hawaii was another memorable trip, but for slightly different reasons. Of course, Natalie gets straight into the snorkeling. Hawaii is renowned for its stunning coral reefs, turtles and pristine water. It's also sunny, so visitors usually apply a thick layer of sunscreen before heading into the water.
A prominent information billboard caught Natalie's attention; she jokes that she is a sucker for an information noticeboard!! This one was alerting divers to the potential dangers of sunscreen, and the harmful effects that it can have on coral reefs. This was news to Natalie and as it turns out, was her 'light bulb moment' that led to her new business, Seasick Mineral Sunscreen. Here she is at Kahalu'u Marine Education Centre on Hawaii.
Natalie reflects on the sunscreen she was used to using. Frequently applied with a very potent smell, full of chemicals and always in a big plastic bottle!! She thought there must be something better out there. As it turns out, there wasn't. So she set out to develop a mineral sunscreen that she could trust to protect her fair and sensitive skin without all the harmful chemicals.
She also gave careful consideration to the packaging. Seasick comes in neat aluminium tins that are light weight, convenient for travel and infinitely recyclable or repurposable.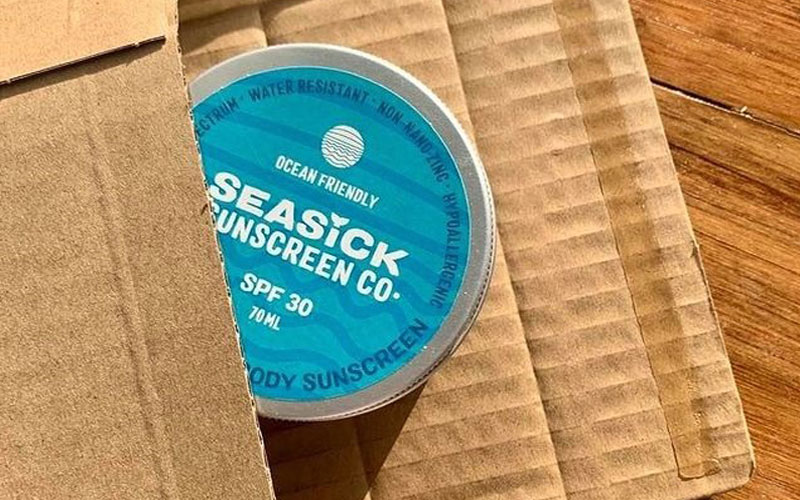 Seasick Sunscreen started its early life at summer markets and festivals in Wellington where Natalie gained invaluable feedback from her customers. She was amazed to discover that so many people were allergic to sunscreens and had struggled for years to find a natural alternative that they could use without suffering from painful skin irritations.
You see, Seasick Sunscreen is made with a handful of carefully selected ingredients such as non-nano zinc oxide, coconut oil and fair trade shea butter. The zinc oxide is the 'active' ingredient in this mineral sunscreen which is what protects your skin from the sun's damaging UV rays. The particles act like tiny mirrors, and literally reflect the sun's rays away from your skin. Read more about the mechanics of sunscreens and how they work here.
The other ingredients act as carriers but will also moisturise and nourish your skin. This natural sunscreen is completely safe for the whole family to use and is certified to provide SPF 30 broad spectrum protection.
Another thing you might notice is the absence of water. That's right – no water!! That means this sunscreen is super concentrated and a little goes a really long way. Applying it takes a bit of getting used to but once you try it, you'll never go back!! Watch this handy video to see how easy it is to apply your mineral sunscreen:
If you ask her why she does this, rather than telling me she wants to sell good sunscreen, Natalie talks about the 'sustainability impact' of her business. In her personal life, she's already made changes to reduce her own plastic use and is conscious of what she buys, who she buys it from (it's usually a local!!) and it's lifecycle.
Natalie is a qualified scientist with a background in ecology so the natural next step for her was to create a business around her sustainability goals. The product she's created is as natural and local as can be. Her packaging and business model stand up to the sustainability challenge too.
But more than that, Natalie wants her business to 'give back' in order to make even more of an impact.
Since day one, Seasick Sunscreen has donated 2% of revenue to support ocean conservation initiatives. She's already donated $1,000 to support Love Rimurimu in the establishment of a seaweed nursery and aims to make this a much larger number in the future.
So, where is Seasick Sunscreen Co headed….?? Natalie would like to see her mineral sunscreen product being a 'normal' part of the kiwi summer. She'd like to see the overpowering coconut smells of big brand sunscreens that we all associate with summer to be replaced by something a whole lot more subtle – and better for us!!!! She doesn't want her brand to be exclusive or fancy either. She'd much rather it be easily accessible and affordable for all – a tin in every kiwi beach trundler.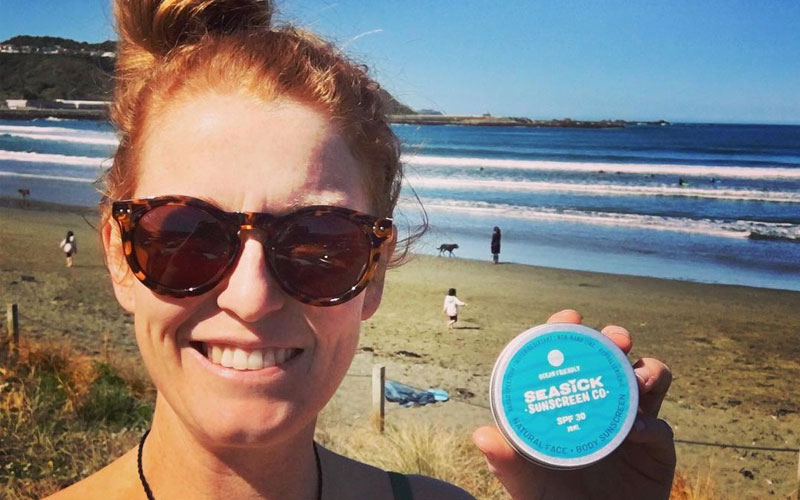 Seasick Sunscreen is available to buy right now, but not one to sit around and think she has 'finished', Natalie has taken on feedback from her customers and is already in the process of developing a new formula. The new 'Daily Face and Body' version of Seasick will be vegan and easier to use in cooler climates.
She's also moving her production to a factory based in Auckland later this year. She knew she would outgrow her kitchen eventually (yes…. Natalie currently makes all the sunscreen in her own kitchen….!!) and is delighted with the benefits that a larger scale commercial facility brings to her product. It will be more consistent, so there will be no variation in the protection it gives from tin to tin, and it will allow Natalie to grow her business whilst someone else takes care of the manufacturing. Win win!!!
Thanks so much to Natalie for chatting with us and for supplying images, text and information that have been used in this blog. Click below to visit her Green Elephant store and experience her all natural mineral sunscreen!!